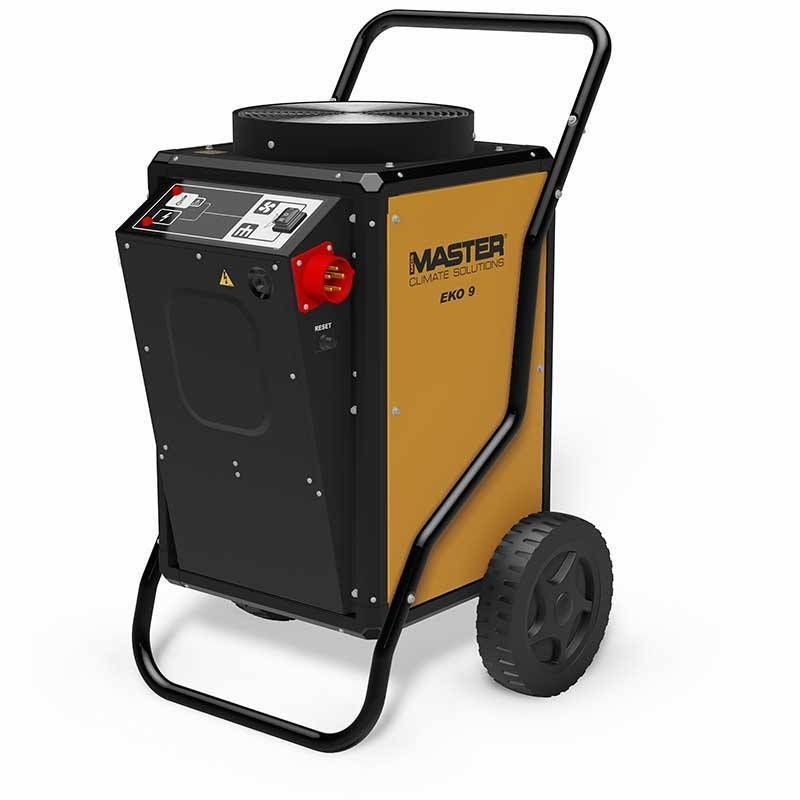  
Master EKO 9 (9.0 kW) electric heater
The efficiency of EKO heaters is based on the fact that pests and their larvae and eggs die from dehydration when exposed to high temperatures over 45 ° C for several hours
Safe and secure shopping
Fast shipping
Satisfaction guaranteed
Master EKO 9 electric heater (9.0 kW)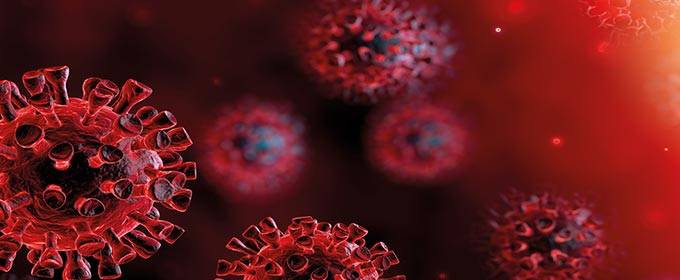 CONTROL OF VIRUSES AND BACTERIA
THERMAL METHOD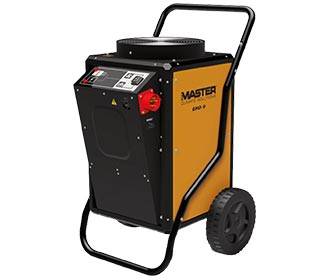 HEAT EFFECTIVE
KILLS BACTERIA AND VIRUSES
Heat is the best way to disinfect. It penetrates deeply into all surfaces, effectively killing bacteria and inactivating viruses. The effects of thermal disinfection can be measured and documented with the Master IMCS system.
Thermal disinfection has many other advantages:
It is environmentally friendly
Simple to apply
It does not require cleaning after application
No risk of chemical contamination and / or allergic reactions
It is much more effective than that
any other known methods
alternative
Established in 1954, Master Climate Solutions is an experienced manufacturer of portable air heaters for many industries. EKO heaters are designed to quickly eliminate living organisms in the most effective way. Experienced industry experts are ready to certify the effectiveness and correctness of their operation.
THERMAL DISINFECTION IS SCIENTIFICALLY PROVEN
It has been known for centuries that high temperature kills pathogens. Over the years, scientists have been able to show how exposure to temperature kills or inactivates a wide variety of bacteria and viruses.
Regarding modern viruses such as the SARS CoV coronavirus, recent studies have shown that it is quite stable at low and room temperatures. According to the WHO, only minimal reduction in viral load can be detected after 21 days at 4 ° C and -80 ° C, respectively. At room temperature, even after two days, the virus concentration decreases by only one log (measure of infectious titer). This strong immunity makes the coronavirus extremely contagious. However, research by the China Institute for Viral Disease Control and Prevention (endorsed by Gerba, 1997; Laude, 1981) shows that the coronavirus family in general is quickly inactivated at higher temperatures.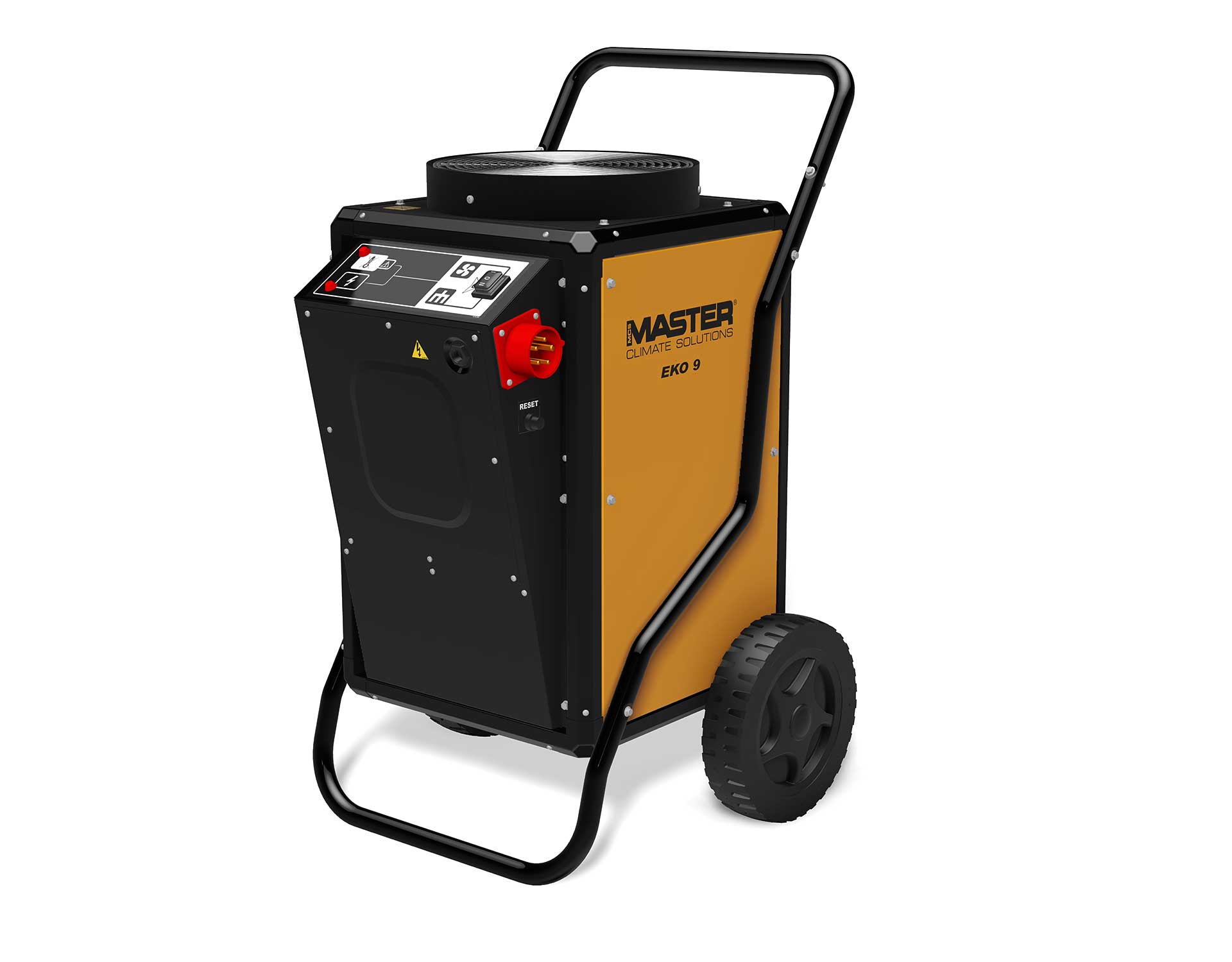 Possibility to connect a room thermostat
The effectiveness is based on the fact that the pests and the larvae and their eggs die from dehydration
Motor with thermal protection
It causes air recirculation, increasing its temperature every 15 ° C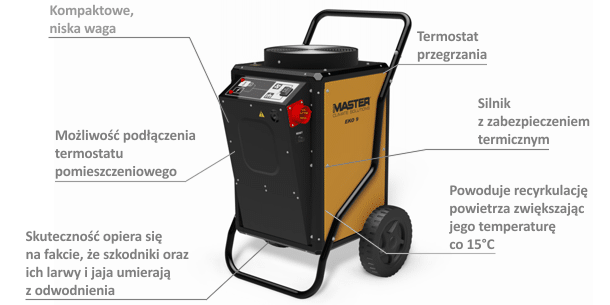 Compact, low weight (35 kg)
EKO 9 provides 1400 m³ / h of warm air using only 9 kW at 380 V (three-phase)
Possibility to connect the THK room thermostat, intended especially for this type of application - included in the package
Overheating thermostat
Motor with thermal protection
EKO Master is placed in a room where it causes air recirculation, increasing its temperature every 15 ° C
Especially recommended for use in hotels, hostels, hospitals, restaurants, bakeries, kitchens, railroad cars, airplanes, prisons and barracks
High temperatures are required for effective disinfection. However, in order to avoid the effects of thermal shock in the room and in relation to the objects in it, the temperature must be increased smoothly. Such a temperature increase is ensured by specially designed EKO heaters. Most of the heaters available on the market are not able to smoothly reach such high temperatures and are therefore not suitable for thermal disinfection.
Device dimensions (L x W x H)
Package dimensions (L x W x H)