 
NPS 70 (70 kW) solid fuel air heater
Solid fuel heater, NPS model (70 kW)
Safe and secure shopping
Fast shipping
Satisfaction guaranteed
NPS 70 (70 kW) solid fuel air heater
NPS - solid fuel-driven stationary fan heater with a heating capacity of up to 70 kW (NPS70 model) is a device characterized by a simple structure and principle of operation, while maintaining the highest quality of workmanship.
The advantage of the heater is its versatility - the heater can be powered by any fuel (wood, coal, briquette), and after installing the fan burner - also with gas, fuel oil, used oil and pellets. Burners are available separately.
The heat needed to heat the object is obtained thanks to the heat exchange between the flue gases and clean air via a heat exchanger.
The operation of the device is controlled by a heat exchanger thermostat, thanks to which the fan turns on automatically when the temperature in the exchanger chamber reaches the appropriate level.
The heater generates heat directly into the room through the blower head, and the smoke and other gases emitted during combustion are discharged through the chimney.
The static pressure generated by the fans used and the precisely profiled blower head ensure that the heat is distributed quickly and evenly in the room. An undoubted advantage of the device is the easy to empty ashtray located directly under the combustion chamber.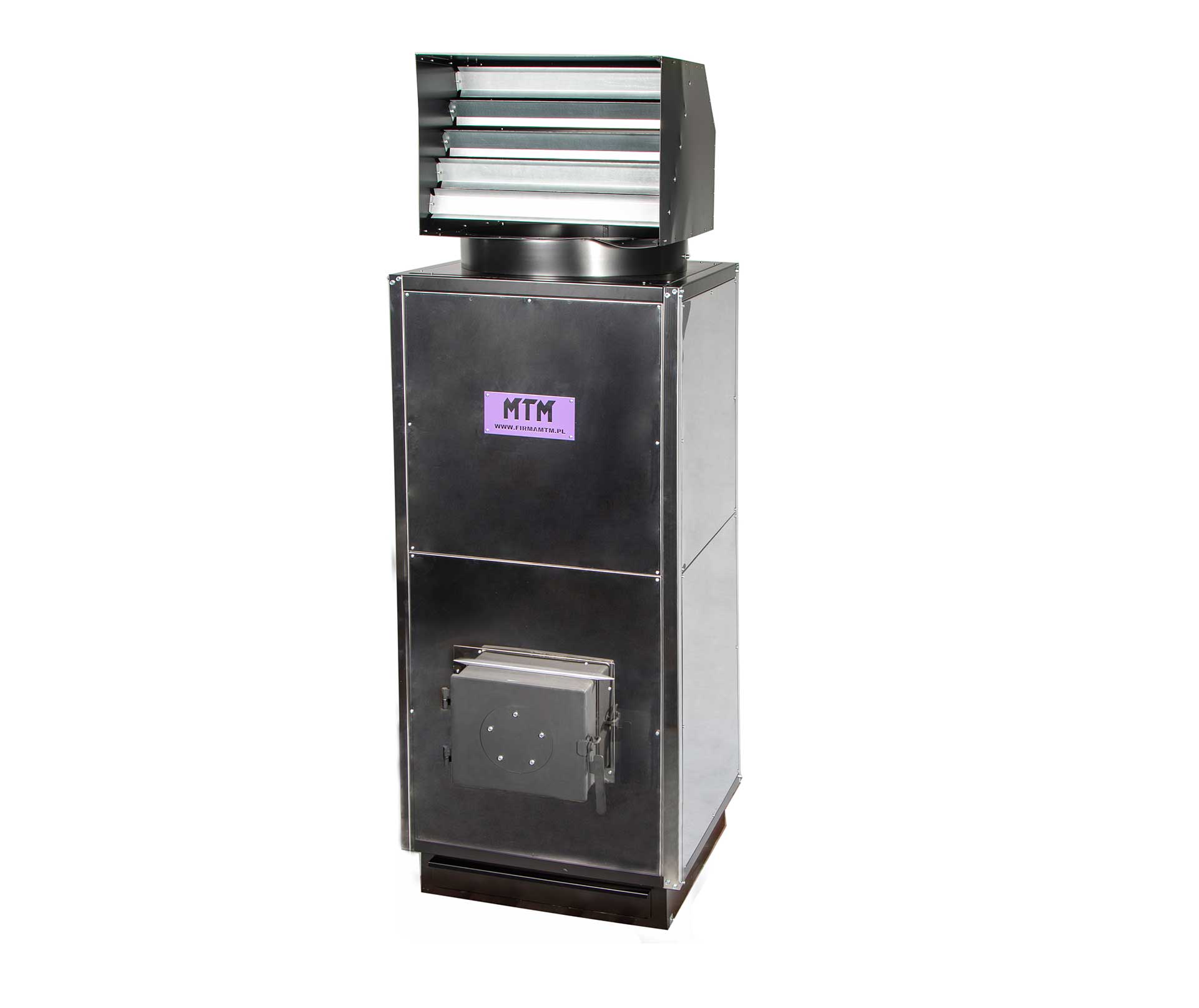 Rotating blower head with movable louvers
Durable and solid construction
Possibility to use a fan burner
Characteristics of the NPS 70 heater
high efficiency,
completely pure heat,
manual ignition,
very low operating costs - cheap fuel - wood waste (recommended) or other available solid fuel can be used: coal, wood briquettes,
ignition can take place at a temperature below 0 ° C - no medium that could freeze at minus temperature,
air circulation caused by the operation of the fan prevents the accumulation of warm air under the ceiling,
the device does not heat buildings, but only the air in them,
high efficiency and high power - 70 kW,
possibility of fueling with solid fuels (dry wood).
Examples of NPS 70 heater applications
warehouses,
factories,
production halls,
assembly plants,
workshops,
agricultural and farm buildings.
Without a burner: wood, coal.
After installing the burner: gas, heating oil, used oil, pellets
30 kg / h - for wood *
Fuel consumption depends on its type.
The diameter of the chimney connection
Dimensions W x D x height
780x1250x2270 (1720 + 550 head) mm
Combustion chamber dimensions
diameter - 620 mm, height 860 mm
Combustion chamber dimensions